Do you know why we celebrate Valentine's Day? Now it is mainly so that
we can tell people that we care about them, give and receive cards, and
enjoy chocolate and candy.
But according to one legend, St. Valentine's Day is meant for people to
remember a brave man, a martyr whose name was Valentine.
The Story of St. Valentine
The Roman Emperor Claudius II was fighting many wars. He wanted a
strong army, but many men did not want to be soldiers. Claudius thought
the men wanted to stay home to be with their wives and children instead
of leaving to fight wars.
Claudius thought of an awful solution to his problem. He decided to cancel
all marriages! No one in all of Rome could get married. Claudius thought
that if the men couldn't get married, the men would ignore the women
and want to be soldiers.
Valentine, who was a priest, believed that people needed to get married.
He thought that if they were not married, they would be tempted to sin by
living together without being married. So he secretly and illegally married
couples anyway! He performed the weddings in secret places, so the
Roman soldiers would not find out.
But they did find out. Valentine was arrested and brought before the
Emperor. The Emperor thought Valentine was a well spoken and wise
young man, and encouraged him to stop being a Christian and become a
loyal Roman. Valentine would not deny his beliefs, and he refused. He was
sent  to  prison  until  he  could  be  executed. While he was in prison, he sent
out letters to his friends and asked to be prayed for by writing Remember
your Valentine.
Valentine was killed on the 14th or the 24th of February in the year 269 or
270. We celebrate Valentine's Day on February 14th in honor of St. Valentine.
VALENTINE'S VOCABULARY
LET'S LISTEN TO SOME BEAUTIFUL SONGS!
A – TISKET, A – TASKET SONG
VALENTINE WORD SEARCH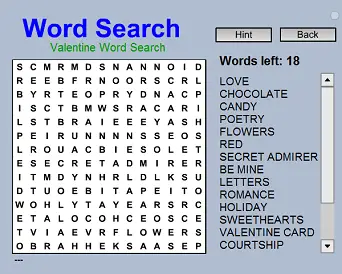 VALENTINE MEMORY GAMES
VALENTINE JIGSAW PUZZLES



VALENTINE HEARTS GAME
Collect cupid's hearts with your cloth sack to score points while avoiding broken hearts (which will set the sack on fire) and bandaids (which will stick the top of your sack shut). Get as many of cupid's hearts as you can before time runs out!
VALENTINE'S DAY QUIZ
HEART BALLOONS GAME
Use your mouse to move the pin around the game area.
Pop as many red heart balloons as you can while avoiding the green balloons.
Game ends when a green balloon is popped.


SAINT VALENTINE'S DAY –  A STORY AND A GAME.
DORA & THE LOST VALENTINE
VALENTINES SOUR CREAM COOKIES
INGREDIENTS:
– 1 cup of cream or soured cream  ( add a tea spoon of vinegar to sour).
– 1 cup  of sugar.
-1 tea spoon of vanilla .
-3 tea spoons of baking powder.
-2 eggs.
-approx. 3 cups of flour.
DIRECTIONS:
1.- Mix ingredients together.
2.- Roll out about 1/4 inch thick.
3.- Bake at 350 degrees for about 15 minutes.
SAINT VALENTINE'S DAY – INTERACTIVE BOOK
VALENTINE'S DAY –

JCLIC

ACTIVITIES
MAKE YOUR VALENTINE
VALENTINE'S DAY GREETING CARDS