Easter is a religious festival when Christians celebrate the death and resurrection of Christ. Christians believe that Jesus was killed by crucifixion on a Friday and then actually came back to life on the following Sunday.

In England, people give Easter eggs as a present. They are usually chocolate eggs or hen's eggs with a painted shell.
HOW PEOPLE CELEBRATE EASTER IN ENGLAND

THE EASTER HOLIDAY
THE CUSTOM OF GIVING EGGS FOR EASTER
ONLINE EASTER GAMES
  EASTER SONGS  

EASTER POEM CHANT
EASTER WORD SEARCH
It's Easter! Can you find the eight Easter words in this puzzle?


EASTER GAMES AND VOCABULARY
AN EASTER STORY – THE GREAT EGG HUNT
Watch Sam and Pam, Ben and Tess at the great egg hunt adventure.
How many times can you hear the sounds g, o, c, k, e, u and r?
MR CARROT'S  BUNNY SOUP
AN AMERICAN FOLK TALE
EASTER TALES
 EASTER EGG HUNT
Help the rabbit to find  10 Easter Eggs that are hidden in the wood!

WORD HUNT
LET'S COLOUR THESE EASTER EGGS!
IT'S REALLY FUNNY!

  

LEARN SOME EASTER VOCABULARY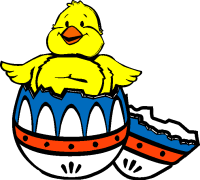 EASTER FLASHCARDS
EASTER EGG HUNT – WHERE IS IT?
EASTER GAME – SPOT THE DIFFERENCES
EASTER GAME – THE RIGHT ORDER
BABY  CHICKS
Find the baby chicks hiding  in the eggs.
Look closely at the eggs and remember how they are decorated!
Look at the picture ! Can you spell the word?
Burst the right balloons when they go past!
EASTER CARDS – MATCHING GAMES

MEMORY GAME

EASTER PUZZLE
 ROW SWAP PUZZLE
EASTER – JCLIC ACTIVITIES
HOT CROSS BUNS RECIPE
HOT CROSS BUNS SONG
LITTLE PETER RABBIT SONG

I WISH YOU A HAPPY EASTER