Everyone is Irish on St. Patrick's Day! But how did this celebration of green come about?
The origin of St. Patrick's Day was established as a religious feast day in honor of the death of St. Patrick, Ireland's patron saint. Traditionally St. Patrick's Day, observed on March 17th, is celebrated in Ireland and in many Irish communities throughout the world. The St. Patrick's Day celebration traditionally includes an Irish mass in the morning and a celebration of traditional Irish food and dance throughout the day.
Saint Patrick's Day has come to be associated with everything Irish. To those who celebrate its intended meaning, St. Patrick's Day is a traditional day for spiritual renewal and offering prayers for missionaries worldwide. Most Irish citizens attend mass followed by an evening of traditional Irish food and drink.
ABOUT ST. PATRICK
St. Patrick was the patron saint and national apostle of Ireland who is credited with bringing Christianity to Ireland. St. Patrick is believed to have been born in the late fourth century. He is most known for driving the snakes out of Ireland; although that is probably more symbolic of him putting an end to pagan practices involving snakes. St. Patrick did however superimpose a sun, a powerful Irish symbol, onto the Christian cross to create what is known today as the Celtic cross.
ABOUT LEPRECHAUNS
ST. PATRICK'S DAY – READING
FOUR LIMERICKS FOR ST. PATRICK'S DAY
ABOUT IRELAND
CORNED BEEF AND CABBAGE –  RECIPE
Ingredients
3 pounds corned beef brisket with spice packet
10 small red potatoes

5 carrots, peeled and cut into 3-inch pieces
1 large head cabbage, cut into small wedge
Directions
Place corned beef in large pot or Dutch oven and cover with water. Add the spice packet that came with the corned beef. Cover pot and bring to a boil, then reduce to a simmer. Simmer approximately 50 minutes per pound or until tender.
Add whole potatoes and carrots, and cook until the vegetables are almost tender. Add cabbage and cook for 15 more minutes. Remove meat and let rest 15 minutes.

Place vegetables in a bowl and cover. Add as much broth (cooking liquid reserved in the Dutch oven or large pot) as you want. Slice meat across the grain.
ST. PATRICK'S DAY WORD SEARCH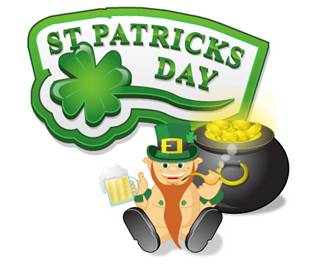 SPOT THE DIFFERENCES
ST. PATRICK'S QUIZ
LUCKY CLOVER
Find all 10 four leaf  lucky clovers as quickly as possible
FIND A FOUR LEAF CLOVER
ST PATRICK'S GOLD GAME
ST. PATRICK'S JIGSAW
ST.PATRICK'S DAY – INTERACTIVE BOOK
ST PATRICK'S DAY HISTORY AND SONG
WHAT'S YOUR LEPRECHAUN NAME?
The picture below will help you to choose the name of your personal leprechaun depending on your personal name and the month you were born.
ST. PATRICK'S GREETING CARD