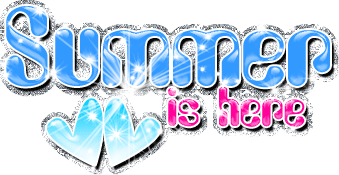 Smile, relax, forbid, do sport, go running, go on excursions,  try to say what you feel, go for a walk,draw and paint, smile at your parents, read a book, sing in the shower, keep your good memories, take some photos, listen to your friends, show your happiness, write your feelings, listen to the nature and respect the environment, help people, do what you have promised, let someone help you,look at flowers, help to your friends, turn the TV off and chat with your relatives, listen to your favourite music, learn something you have always wanted to do, phone your friends, close your eyes and imagine the waves on the sea, make someone feel important, make a list of things you are good at, go to the library and listen to the silence, say to your friends you love them, look at the stars,think about what you have, breathe, finish projects, don't worry if you have some mistakes, make friends, grow and be responsible and enjoy your summer.
 I hope you have a very happy and relaxing summer break. 
SUMMER POEM

SUMMER WORD SEARCH
Words are hidden left to right and down.
Click on the first letter of the word you've found and drag to the last.
The correct word will be marked and removed from the word list.

SUMMER DRAG AND DROP PUZZLE

SUMMER SLIDE PUZZLE
SUMMER JIGSAW PUZZLE
SUMMER TOPIC
SUMMER MATCHING GAME
Test your memory! Match the words and the pictures.
Click on two cards. If they match, they will make a pair.


SUMMER MYSTERY WORD

Try to guess the mystery words letter by letter.
Click letters that you think are in the word.
Use the words from our Picture Dictionary.
SUMMER SPELLING GAME
Choose a picture. Type the word.
Use the lowercase letters only (a, b, c etc.)
and the words from our Picture Dictionary.
SUMMER PICTURE TEST
Take our picture test! It's easy to play, fun and suitable for very beginners.
Drag and drop the right words to the right boxes below the pictures.
SUMMER VOCABULARY QUIZ
Test your English vocabulary! Read each question carefully,
then choose the right answer from four options. Good luck!

SUMMER STORY – THIS SUMMER
SUMMER STORY – AT THE BEACH
SUMMER STORY – I LOVE SUMMER
SUMMER STORIES
SUMMER STORY – BUN BUN AT THE BEACH
4 SEASONS IN A YEAR
SUMMER VOCABULARY

SUMMER SONGS
ART OF SAILING! – HAVE A GREAT SUMMER